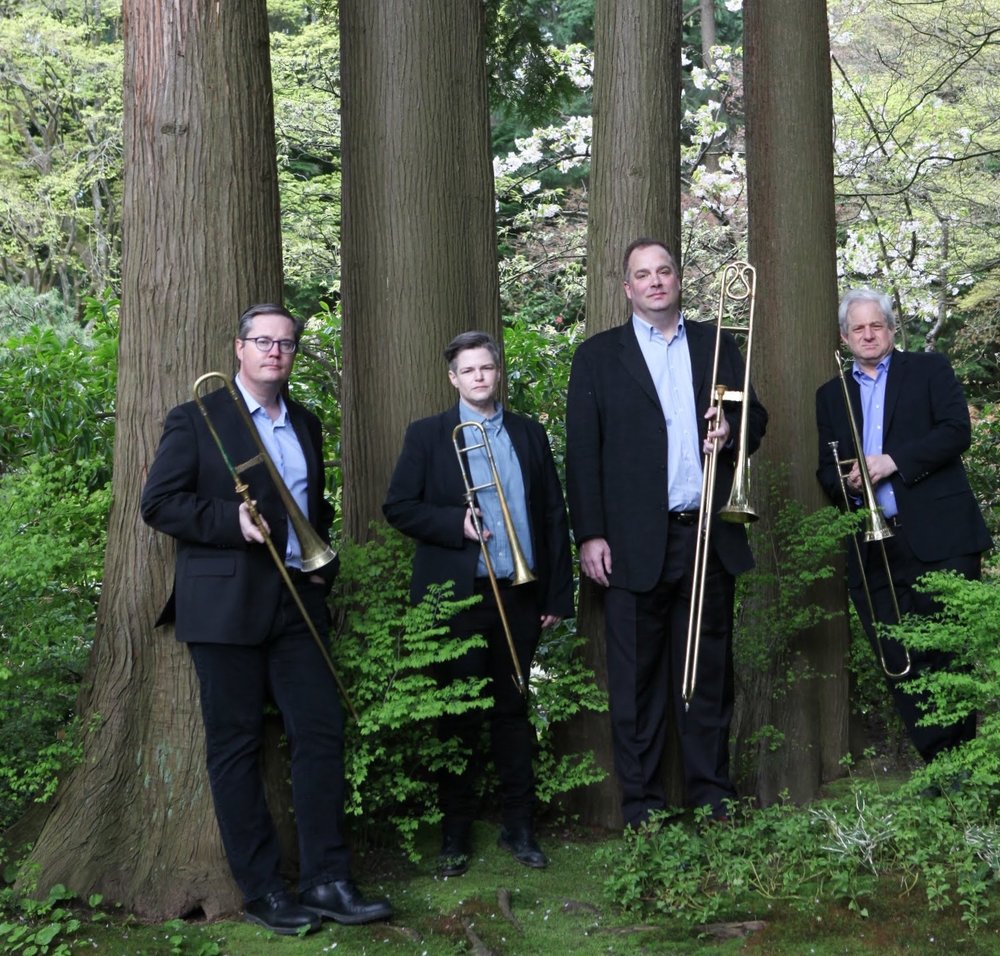 Photo: Jesse Read
Download hi-res photo file (57.5MB)
Ellen Marple

Ellen Marple (alto sackbut) took up the trombone at age 11 with dreams of playing swing and soon became fascinated with the instrument's incredible versatility, immersing herself in style and technique across genres. While a student at the University of North Texas, Ellen met Lyle Nordstrom and discovered a deep love for early music that she continued to explore in her subsequent studies at the University of British Columbia with Alex Fisher, Ray Nurse, Doreen Oke, Jeremy Berkman and Gordon Cherry.
As a freelancer, Ellen can be found performing and recording an eclectic mix of music with ensembles including Capella Borealis, the Hard Rubber Orchestra, Skim Milk, and the VSO.

Alex Fisher

Alex Fisher (tenor sackbut) studied modern trombone at Northwestern University (B.Mus. 1992), where he first encountered the sackbut and other early winds in the university's Early Music Ensemble. He has performed as a trombonist and singer with the Early Music Institute at Indiana University (M.A. 1995) and at Harvard University (Ph.D. 2001). A professor of musicology at the University of British Columbia since 2002, he specializes in music of Renaissance and Baroque Germany, teaches a range of courses in early music, and is the coordinator of UBC Early Music.

Jeremy Berkman

Jeremy Berkman (tenor sackbut) currently performs with a diverse set of outstanding musical colleagues that include Vancouver Opera's orchestra, Turning Point Ensemble, the Jill Townsend Big Band, and most recently Cappella Borealis, where he is feeling the thrill of opening a musical chest of extraordinary music that as a sackbut player he is now able to explore. Originally from Amherst, Massachusetts and with degrees from Oberlin Conservatory, and the Juilliard School, Jeremy chose to reside in Canada after spending a transformative winter at the Banff Centre for the arts where he fell in love with Canada and his wife, Sheila McDonald. Jeremy is a Sessional Instructor of Trombone at the University of British Columbia, where, among many exciting projects with which he has been involved, he first performed as a sackbut player for Nathan Wilkes' Doctoral recital!

Nathan Wilkes

Nathan Wilkes studied bass trombone at Oberlin Conservatory with Per Brevig and Ray Premru and completed his doctoral studies at the University of British Columbia under Doug Sparkes and Dr. John Sawyer. Nathan has also studied early music performance (baroque trombone) with Bruce Dickey. In addition to co-founding Cappella Borealis, Nathan has appeared with Concerto Palatino, The Whole Noyse, La Modestine, Chanterie, and other early music ensembles, as well as with modern orchestras such as the Vancouver Symphony and the Akron Symphony. Nathan plays a variety of medieval, renaissance, and baroque wind instruments, and enjoys singing the music of both early and contemporary composers.